Poole's 'raucous house parties' investigated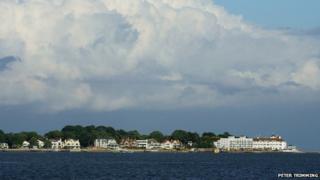 Legal action is being taken by council officials to prevent raucous house parties at luxury rented homes in a seaside town.
Residents have called for an end to the "alcohol-fuelled" hen, stag and birthday parties in Poole, Dorset.
Mike White, deputy leader of Borough of Poole, said he had "tremendous sympathy" for the residents affected.
Resident Jen Cameron said the news brought some "delight" but a "clear action framework" was needed.
Complaints refer to properties in areas such as Canford Cliffs and Sandbanks that have been rented out by groups of 30 or more people.
Ms Cameron lives in Canford Cliffs and has formed the Party House Action group. It has been approached by more than 50 residents so far.
She called the parties an "onslaught of noise [and] alcohol-fuelled behaviour" and an "absolute nuisance which means people can't enjoy their own gardens".
"It took all the residents uniting, stomping their feet and not giving up, to get us where we are," she added.
'Torture and torment'
In all, six properties have been investigated by the council.
Three have since been sold, ending some "torture and torment", Ms Cameron said.
Two may face action under current planning laws, and one has been served with a noise abatement notice.
Mr White said: "We are looking at all possible avenues to address this issue but it is a complex legal matter and there is no one piece of legislation that will provide a swift solution.
"New anti-social behaviour legislation is due to become law in October, and we will be reviewing this to see how it can help us address the problem of noise disturbance and anti-social behaviour associated with party houses."