New Weymouth Football Club stadium plans rejected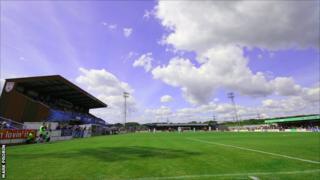 Planning permission for a new Weymouth Football Club stadium has been rejected amid contamination fears.
Councillors voted against plans to build a stadium in Lodmoor on a former landfill site on Tuesday.
A council report had said there was "potential for a significant breakout of leachate" if remediation work happened on the site.
Leachate is waste liquid that drains or leaches from a landfill site, leaving environmentally harmful substances.
'Contaminated site'
Planning officers had recommended in a report that councillors grant conditional approval for the plans.
But councillor Ian Roebuck told the meeting of Weymouth and Portland Borough Council's planning and traffic committee the financial risks of the development to the council were "totally unacceptable".
Mr Roebuck, who is responsible for environment and sustainability at the council, said there was a danger if leachate occurred the developer would decide the project was unviable.
Mr Roebuck said the council, which owns the land, could then be left with a contaminated site to deal with.
Wessex LLP wants to develop homes on the site of the club's Bob Lucas Stadium, but in October was refused planning permission to build up to 170 homes.
Wessex Delivery LLP holds a 15-year option from 2008 to acquire the site in exchange for funding a new community stadium, within five miles of the club's existing ground.
Wessex LLP, which is behind the plans, declined to comment on the decision.
Weymouth Football Club could not be reached for comment.