High-speed Channel Islands ferry based in Poole Harbour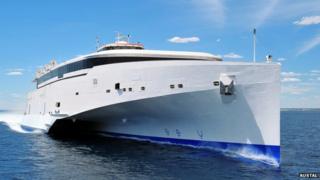 Condor Ferries will run its new service to the Channel Islands from Poole because its previous base cannot cope with the high-speed Austal 102 vessels.
The firm, previously based at Weymouth, will run the high-speed service from the port starting in the spring.
It said it had now come to an agreement with Poole Harbour Commissioners.
CEO James Fulford said he realised it would be "disappointing news for Weymouth" but Poole was a "modern and well-connected port".
Mr Fulford said given "the need for berth improvements and an Environmental Impact Assessment, Weymouth is not currently in a position to accommodate the 102".
He added: "Reaching a medium-term arrangement with Poole will give certainty to our customers, our islands, and Poole Harbour Commissioners, whilst also allowing enough time for Weymouth and Portland Borough Council to establish their long-term plans for their port."
Although Poole has the facilities to accommodate the new ferries, the distance to the Channel Islands is greater than from Weymouth.
Jim Stewart, of Poole Harbour Commissioners, said the move would help give "certainty to the port" and would boost employment there.
Weymouth and Portland Borough Council spent £4.5m repairing its cross-channel ferry port but has said it had no money for improvements to accommodate a bigger ferry.
It said the berth would require £10m of work.
'Scratch heads'
Labour borough councillor Mike Byatt called the move "disappointing".
The ferry service is estimated to generate £10m a year for the local economy in Weymouth.
Dave Price, of the Weymouth Hoteliers Association, said: "We are going to miss it, there's no doubt. But we have to move on - Weymouth was here long before Condor and it will be after Condor."
In May, council representatives and South Dorset MP Richard Drax failed to secure government funding to upgrade the ferry port.
Mr Drax said the company moving to Poole would now give Weymouth time to "scratch our heads".
"We can ask ourselves 'do we want the ferry here?', and if we do, how are we going to raise the money for it?," he added.