Sandbanks restaurant destroyed by fire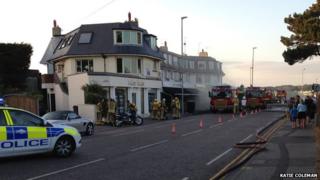 Fire has destroyed a restaurant in the exclusive peninsula of Sandbanks in Dorset.
Both the bar and upper restaurant at Cafe Shore on Shore Road were destroyed and the peninsula was cut off while crews tackled the flames.
More than 40 firefighters spent four hours tackling Monday evening's blaze.
Manager Emily Davies said an electrical fault was believed to be to blame and it was not clear when the business would be able to reopen.
'Heroic actions'
She said: "An electrical fault in a store room behind our bar resulted in a devastating fire that swept through the restaurant and bar areas of Cafe Shore.
"Needless to say, we feel incredibly lucky that nobody was hurt.
"We would like to thank the firefighters at Dorset Fire and Rescue Service for their heroic actions in making the area safe and ensuring that the damage was limited.
"We would also like to thank our team at the restaurant, who acted quickly and professionally in leading the evacuation and ensuring the safety of all concerned.
"The outpouring of support from customers, locals and businesses has been incredibly encouraging."
Exclusive address
The fire, which began at about 18:00 BST, forced the closure of Shore Road, the only route in and out of Sandbanks, cutting the peninsula off from Poole.
The Sandbanks ferry, which links the peninsula to Studland, Swanage and the Purbecks, was also suspended for the rest of the day.
Katie Coleman, who lives in Sandbanks, said she and other residents were unable to get home because of the incident.
The fire was brought under control by 22:30 but crews said they would return to the site throughout Tuesday to ensure it was safe.
Sandbanks is one of the UK's most exclusive addresses and is home to football managers, including Harry Redknapp and Tony Pulis.