Fire in cafe cuts off Sandbanks peninsula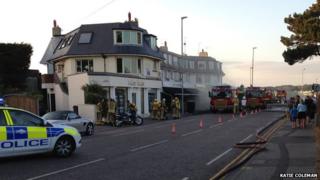 A fire in a cafe left Dorset's Sandbanks peninsula temporarily cut off from the rest of Poole.
Fire broke out in Cafe Shore on Shore Road, the only route in and out of the exclusive peninsula, at about 18:40 BST.
The road was closed and about 45 firefighters and eight fire engines remained at the scene into the night.
The cafe, which had been full of customers, was evacuated safely, Dorset Fire and Rescue said.
The Sandbanks ferry, which links the peninsula to Studland, Swanage and the Purbecks, was also suspended.
Katie Coleman, who lives in Sandbanks, said she and other residents were unable to get home because of the incident.
Sandbanks is one of the UK's most exclusive addresses and is home to football managers, including Harry Redknapp and Tony Pulis.