WW1 soldier's diary to be digitised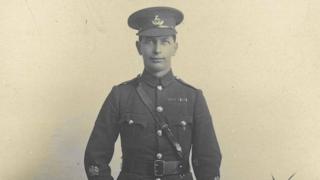 The front-line experiences of a World War One soldier are being published online through a new blog.
The diaries of Regimental Sergeant-Major George Beck are being published by the Dorset History Centre exactly 100 years after they were written.
One entry details the Christmas truce of 25 December 1914, saying: "Germans very eager to exchange almost anything for our 'Bully Beef' and jam."
The blog and live tweets from the diary will be published on 21 August.
RSM Beck, from Portland, served on the Western Front for the whole of the 1914 to 1918 conflict, and was awarded the Military Cross in April 1918.
His diaries chronicle the daily struggle in the trenches, including several major battles.
He also wrote of the introduction of gas as a battlefield weapon in May 1915.
In that entry, he wrote: "Heavily shelled during the morning, quiet in afternoon until about 4pm when a cloud of German gas was seen arriving catching two Regiments in the firing line which broke, the gas came on to us.
"Some of our men went back, but we formed up as many as possible and made a line in rear."
He added: "These last three days had shaken the Regiment up and affected the morale of the regiment and we are in great need of a rest."
Members of his family still live on Portland, and his granddaughter Caroline Milverson provided the centre with his diaries.
She said: "I am delighted that more people will now be able to learn about my grandfather's thoughts and feelings as he wrote his diaries 100 years ago."
RSM Beck died of pneumonia and influenza on 20 March 1928, aged 47.