Stephen Fawcett A35 crash death: David Churcher jailed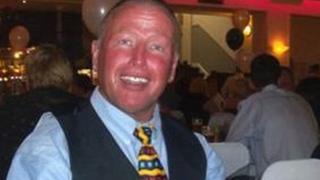 A man whose dangerous driving led to a crash which killed a van driver has been jailed.
Stephen Fawcett, 49, from Stockton, Teesside, died in the three-vehicle collision on the A35 near Bridport in Dorset on 19 August last year.
Ford Transit driver David Churcher, 33, from Bournemouth, admitted causing death by dangerous driving and was jailed for six years and six months.
Mr Fawcett's family said Churcher had robbed them of a "great man".
Churcher was also sentenced to one month's imprisonment, to run concurrently, for possession of a class B drug and was banned from driving for 10 months.
Mr Fawcett's family said: "It is with a heavy heart that today we received some justice seeing Mr David Churcher sentenced to a lengthy prison term, but no matter how long he serves it will not be enough as he has robbed a family of a great man.
"We would also like to thank Dorset Police for all the hard work they put in to bring David Churcher to justice."