Electric Palace in Bridport is on the market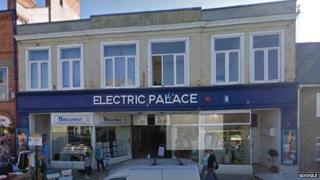 A Dorset arts venue, which was saved from becoming derelict, has been put up for sale.
The Bridport Electric Palace was reopened in 2007 and has attracted stars such as comedian Al Murray and musician PJ Harvey.
Owner Peter Hitchin said he was retiring from running the venue and had put it up for sale for £550,000.
The former opera house was built in 1926 and shut in 1999, due to concerns about the safety of the balcony.
'No hurry to sell'
Mr Hitchin, who has run the venue with his son Gideon and daughter Gabrielle over the last seven years, said: "It needs someone younger and someone with more vitality.
"It is a lifestyle business and I am in no hurry to sell it. I am looking for the right person."
He said he hoped an individual or a consortium who loved the venue would take it over.
The South Street venue was runner-up in the Rock The House's Best Small Live Venue 2012 award.
It was originally opened as a venue for the Bridport Operatic Society but branched out into showing films a few years later.
It has one of the only surviving 35mm projectors in the UK and maintains its art deco interior.
After being refurbished by Mr Hitchin and his family, the Palace hosted national film premieres, screened operas and attracted well-known comedy and musical stars.