Vandals hit Portland MEMO extinction sculptures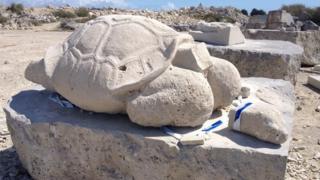 Stone sculpture exhibits for a new conservation attraction on the Dorset coast have been damaged by vandals.
The Mass Extinction Memorial Observatory (MEMO) is planned to be built in Portland, featuring stone carvings of extinct species.
Four hand-carved sculptures have been smashed, as well as a number of engraved stones.
Project director Seb Brooke described the vandalism as a "shock" but said it would not hold the project back.
'Mass extinction'
He said: "It is absolutely a shock because the stones have been out there for two years without being touched.
"However, this will not affect the project. In some ways it has just hardened the resolve.
"The fact is we are living in a period of mass extinction and we are trying to highlight this and that is what is important."
The team behind the project is attempting to raise funds for a building and to complete the rest of the sculptures.
It now hopes to fix the sculptures before one of its patrons, the American biologist Edward O Wilson, visits the site in November.
The damage is believed to have happened between 17:00 on 2 August and 09:00 on 8 August.
Dorset Police has appealed for witnesses.