Bear Grylls firm poised to drop Bear Blades name legal threat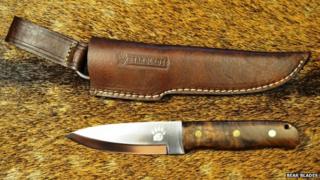 A knife manufacturer threatened with legal action by a company linked to TV adventurer Bear Grylls says it believes the case will be dropped.
Swanage-based Bear Blades was told by Bear Grylls Ventures to drop the word "bear" from its name and branding.
Following a Twitter campaign, which involved supporters posting photos of themselves in bear poses, Grylls tweeted: "You guys are good to go."
Company founder Owen Senior said he had not yet received official confirmation.
The tweet, sent late on Saturday, said: "You guys are good to go! Apologies again. Good luck and let us know if we can ever help you in your endeavours. BG."
Mr Senior, who set up Bear Blades in the Dorset town in 2012, initially said he would change the name as he did not have the "inclination or energy" to fight the action but after Grylls's tweet he said he was hopeful the issue had been resolved.
He said: "We had an email [from Bear Grylls Ventures] saying they were dealing with it, then, after the tweet, they said they were probably going to send us something official. We haven't had anything at all from the lawyers.
"When this happened, we had about seven knives in the workshop. We can't even take advantage of it. Each knife takes three to four weeks to make.
"We would normally expect 100 hits on the website a month, but yesterday we had 1,500. We normally get a couple of emails a week but this weekend we had 2,000 emails to deal with. The majority, two-thirds of them, were emails of support."
In the initial letter, seen by the Press Association, Carpmaels and Ransford said its client Bear Grylls Ventures was "very concerned" about Bear Blades' application to register its logo "Bear Blades. Steel. Strength. Utility".
The law firm said the logo was "very similar" to its client's "Bear" mark and would "create a likelihood of confusion among consumers".
Bear Grylls Ventures has not responded to requests for a comment.