Bear Grylls in Bear Blades knife name row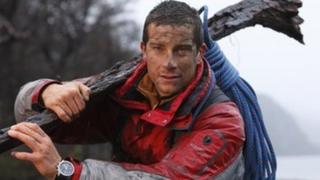 Lawyers representing a company linked to TV adventurer Bear Grylls have asked a knife manufacturer to change its name because it features the word "bear".
Bear Blades, based in Swanage, Dorset, said the law firm wants "bear" removed from its name, logo and website.
Owen Senior, who set up the firm in 2012, said he would bow to the demand as he did not have the "inclination or energy" to fight "faceless" lawyers.
Grylls said he would "look into this" after being contacted on Twitter.
Mr Senior said: "We're trying to build a small business - it's as much a hobby as it is a business - then someone completely faceless comes along and demands we change our name.
"He's [Grylls] meant to be chief scout and encourage outdoor activities. We'll now look to rebrand because we don't have the energy or inclination to fight it."
Mr Senior said he had written to law firm Carpmaels and Ransford to ask why it had made the request to his firm, which he claimed had sold fewer than 100 knives so far this year.
Grylls, whose family home growing up was in Winterborne Zelston, Dorset, has found fame in both the UK and US with his survival television shows.
A spokeswoman for Bear Grylls Ventures refused to comment.
However, in the letter, which has been seen by the Press Association, Carpmaels and Ransford said its client Bear Grylls Ventures was "very concerned" about Bear Blades' application to register its logo "Bear Blades. Steel. Strength. Utility".
The firm wrote that the logo was "very similar" to its client's "Bear" mark and would "create a likelihood of confusion among consumers".