Witchampton biplane crash: Pilot denies manslaughter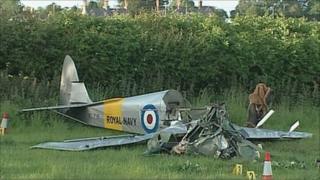 A pilot has pleaded not guilty to the manslaughter of a man who died in a biplane crash in Dorset.
Scott Hoyle, 47, of Charborough Road, Broadstone, pleaded not guilty to the charge at Winchester Crown Court earlier. A trial is earmarked to begin in March.
Mr Hoyle was at the controls of a Tiger Moth which crashed at Witchampton in Dorset on 15 May 2011.
Passenger Orlando Rogers, 26, from Poole, died following the crash.