Bournemouth judged on horticulture and natural beauty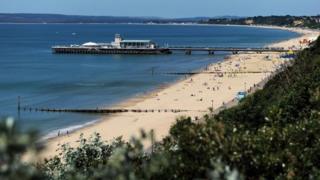 Bournemouth has been judged on its floral displays and areas of natural beauty as part of a European horticultural competition.
The Dorset town is one of only two UK locations chosen for this year's Entente Florale.
Towns and cities from twelve European countries are judged across a range of horticultural areas in the competition.
They are also rated on things which improve life in the area, such as regeneration, business and tourism.
Two towns or cities are chosen by each participating country to take part and are awarded bronze, silver or gold medals for their achievements.
Green initiatives
Bournemouth council leader John Beesley said: "It's a real honour to be invited to take part in this prestigious award and it is recognition that Bournemouth has so much to offer as both a place to live and as a world-class resort."
Judges were taken to Bournemouth seafront, the town centre and Lower Gardens.
Last year Bournemouth won eight gold awards in South and South East in Bloom Awards and Gold at Britain in Bloom for the coastal category.
Entente Florale was founded 35 years ago, initially between Great Britain and France.