Belsen survivors reunited in Woodstock after 70 years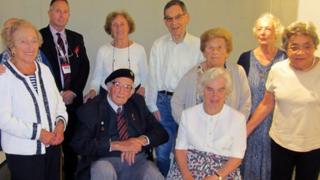 Eleven Holocaust survivors have been reunited with a soldier who helped free them from a Nazi concentration camp.
Gilbert King, 96, was among the liberating forces at the Bergen-Belsen camp in Germany in April 1945.
The former gunner is thought to be one of three veterans still alive from the 249 Oxfordshire Yeomanry, which took the camp from the Germans.
Mr King and the former camp inmates were brought together in Woodstock at the new Soldiers of Oxfordshire Museum.
The £3.5m museum's display, which documents the history of local units, was created with the help of the Holocaust Educational Trust.
'Kissed my boots'
Mr King told the survivors what he had seen as he and his unit arrived at the camp.
He described seeing "thousands and thousands" of rotting bodies piled four deep between the huts of the compound.
He said: "I shall always remember one thing: that one of the inmates came up to me, bent down and kissed my boots.
"This was very emotional to me, a thing I shall never forget."
Susan Pollack, 83, who lived with her family in a small village near Budapest before she was detained by the Nazis, was transferred to Bergen-Belsen from Auschwitz.
After meeting and thanking Mr King, she said her liberators "represented the real truth about heroism".
She said: "Because we, I, was so dehumanised. And then to be confronted with the liberators, it was an incredible feeling."
---
The Holocaust
Who were the guilty? Relatively few of those involved in the genocides of World War Two ever faced justice, but the question of guilt remains.
---
She added: "They were the first ones, actually, who kind of restated that the world outside has not been polluted with that venom and that evil that we experienced."
After liberation she was hospitalised for tuberculosis, typhoid and severe malnutrition.
More than 50 of her relatives including her mother and father were killed during the Holocaust.
Some 70,000 people died at Bergen-Belsen, between Hamburg and Hanover in northern Germany, between 1941 and 1945.