Video helps Lyme Regis WW1 exhibition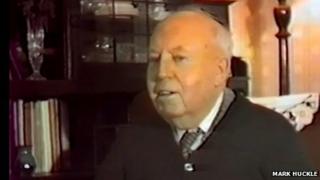 Memorabilia owned by a World War One airman has gone on show at a Dorset museum, after staff spotted a video his grandson had posted on the internet.
Mark Huckle recorded a VHS interview with his grandfather Horace at his home in Lyme Regis in 1984.
Then in his 80s, Mr Huckle had been a WW1 rear gunner. He died in 1988.
A Lyme Regis Museum researcher came across the video and contacted Mr Huckle who contributed items including a flight log to a Great War exhibition.
'Future generations'
The nine minute interview filmed 30 years ago includes Mr Huckle's memories of serving with the Royal Air Corps as a teenager and carrying out bombing raids in biplanes.
Mark Huckle said watching the video was still "quite emotional".
"His memories are quite different from testimonies of men in the trenches - he was up in the plane looking down on things.
"My grandfather was quite stoic and happy to record it for posterity for future generations," he added
Lyme Regis Museum curator David Tucker described the recollections, photographs and the flight log book as "absolutely fascinating".
"While memory fades, the log book tells us everything he did and the way he did it," he added.