Russian Steppe eagle escapes handler for a second time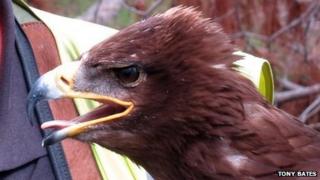 An eagle which flew into a living room in Poole, alarming a woman watching television, has escaped for a second time.
Storm, a 15in (40cm) tall adult Russian Steppe eagle was spotted by members of Dorset Wildlife Trust on Upton Heath.
The bird of prey had flow away from a landfill site near Beacon Hill, where it had been hired to scare away sea birds.
Wildlife trust volunteer Richard Agg described seeing it as a "total shock".
The eagle, who is also known as Boris, made national headlines when it swooped through an open door into the home of Wendy Morrell while she watched the French Open tennis final in June.
Warden Nigel Brooks had been leading a walk when he said a dark shadow appeared "out of nowhere".
"We all scrambled to get our binoculars in focus, as this huge bird perched itself on a sand mound in front of us. It was an unbelievable surprise when we realised it was in fact a Russian Steppe Eagle."
Mr Agg said: "We actually went on the walk to look at all the reptiles and small insects that live on the heath, so it was a total shock to see such a big bird of prey.
"It was actually my wife Rosemary who first spotted it, and it was really interesting to be able to see such a fantastic bird in action. It's not the sort of thing you see every day."
The members of Dorset Wildlife Trust managed to contact falconer James Moore, who confirmed he had been using it to scare off seagulls at the nearby SITA landfill site near Beacon Hill.