Dorset Police blames new centre for call answering delays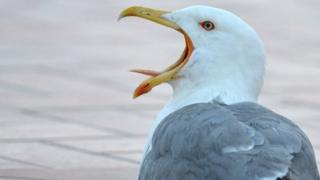 Calls to Dorset Police about trapped birds and children refusing to go to school have contributed to delays in answering non-emergency calls.
The force said the introduction of a new call centre and an influx of tourists had made the delays worse.
Police apologised and encouraged people to get in touch online instead.
Emergency calls to 999 had not been affected and more staff were being recruited to reduce the delays, a Dorset Police spokesman said.
In July, Dorset Police answered 28,000 calls and fewer than half were answered in the target time of 30 seconds, compared with 54% for the same time last year.
The target percentage for answering 101 calls within 30 seconds is 75%.
Non-emergency calls have included requests to move a seagull in a communal hallway and help with cleaning a floor.
---
Non-emergency calls to Dorset Police
•Complaint about the wrong food delivered by Chinese takeaway
•Seagull blocking a communal hallway
•Requesting help to clean a floor
•Wrong items placed in the recycling bin
•Son refusing to go to school
•Seagull trapped in chimney stack
---
Martyn Underhill, Dorset Police and Crime Commissioner (PCC), said: "The introduction of the new Force Contact Centre and an unprecedented rise in call demand, ahead of the busiest time of the year for Dorset Police, has created a perfect storm.
"This has led to unacceptable delays and for that I apologise on behalf of the force."
The police enquiry centre and the force control room were merged in June, in a bid to save £1.3m a year.
The new centre at Dorset Police Headquarters in Winfrith is handling 1,500 more calls each week than in the same period last year.
Non-emergency calls to 101 and old police station telephone numbers are routed to the new call centre, where callers are placed in queues depending on the priority of their call.
The force said the annual influx of about 15m tourists into the county each summer put "increased pressure" on emergency services.