'Poppy explosion' in Dorset commemorates WW1 deaths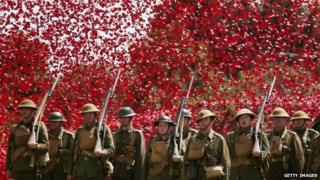 More than one million poppies were blown into the air in Dorset to mark every Commonwealth death during World War One.
The release of 1.1m poppies from a tank - described as a "poppy explosion" - took place at Bovington Tank Museum.
The museum also staged a mock battle with replicas of a British Mark IV tank and a German tank.
The activities were among the events taking place to commemorate the centenary of Britain joining the war.
Other memorial activities in Dorset included a digital light work by artist Martin Coyne in Poole.
It was at the war memorial in Poole Park from 22:00 to 23:00 BST.
Borough of Poole Council said Mr Coyne's work turned Poole's war memorial into a "living reliquary", animated with voices, poetry, memories, pictures and film.
Poole residents were invited to attend and participated by reciting poems and literature specific to the war.
A wreath laying took place in Wimborne to remember those from the town who died in conflict and a candle-lit commemoration took place at the war memorial in Bournemouth between 22:00 and 23:00.
There were also readings, poetry and music in Bournemouth, and the lights of the town hall were turned out.