Boat sunk for Ringstead Bay reef art project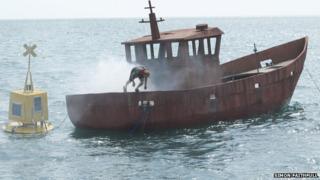 A disused fishing boat has been set on fire and sunk off the Dorset coast as part of an art project.
Artist Simon Faithfull sank the vessel in Ringstead Bay, near Weymouth, to create an artificial reef.
Five underwater webcams broadcast the sinking on the internet and will remain transmitting for the next twelve months.
Mr Faithfull said the cameras would capture the "slow osmosis" of the boat into a habitat for marine life.
He said the boat had been carefully prepared to remove any toxic content before it was scuttled.
"What looks like a catastrophe is actually the start of something new," he added.
The images from the underwater cameras will be relayed to exhibitions at Brighton Photo Biennial festival, as well as other arts events in Calais and Caen, in France.