New beach hut design for storm-hit Studland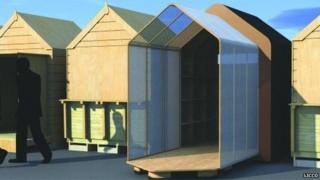 A new beach hut based on boat-building technology is being created for a storm-hit beach in Dorset.
Arts University Bournemouth students came up with several designs for the new hut for Studland's Knoll Beach, as part of a National Trust project.
A modern take on the traditional shape was selected by members of the public, and a prototype is now being built.
The new structure is designed to better withstand storms, high winds and heavy rainfall.
The winter storms left many of the beach's 275 huts "perilously close" to the shoreline, the trust said.
It added the new hut would also be easier to relocate inland when a storm surge is predicted. Other designs for the huts had included egg and ball-shaped structures.
Elli MacDonald, project manager at Studland, said: "The internal rib structure of the hut is based on boat-building and aims to give it extra strength."
She said the scheme was a way of preserving the Victorian "symbols of the seaside" for future generations.
She added more new style huts could be built at the trust-owned beach but said it would depend on the success of the prototype, which would be used as a "show hut".
The £3,000 hut, which Living with a Changing Coast (LiCCo) is funding, is expected to be on site next month.
The project is part of a larger National Trust scheme aimed at safeguarding the coastline against storms and high tides.