Speed complaint leads to Dorset Police changes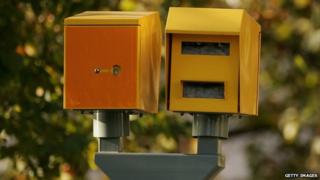 Dorset Police has made changes to the way it deals with drivers who speed, after criticism from a campaign group.
Changes to fines and the way people can take driver awareness courses were ordered by the county's Police and Crime Commissioner Martyn Underhill.
They came after an investigation into how the force treated drivers, after a complaint by campaign group Dorset Speed.
The group had claimed the courses were a "cash cow" for the police force.
But Dorset Police was exonerated in an investigation, led by Mr Underhill.
However he has ordered a number of changes be made to the scheme.
These include a set fine of £110 and its policy which allows drivers to take an awareness course within three years, has been suspended.
'More accountability'
"It is a contentious issue and the public do talk to me about 'cash cows'," said Mr Underhill.
"I tried to bring in changes that will actually show it to be transparent and national-led, so it will make us much more accountable."
Ian Bellchamber, from Dorset Speed, said: "It looks to me as though this is throwing a huge amount of paper at something and just hoping that it will go away."
The complaint included claims the cost of the awareness course was more expensive than elsewhere in the country and that drivers could repeat the course within three years, which is not allowed nationally.
Another area of concern raised by the group was the use of cameras at Holes Bay Road in Poole, which were later removed.
The investigation found Dorset Road Safe was complying with legislation and national guidance.
No excessive costs or unacceptable practices were identified.