Storm-hit cargo ship cigarettes 'found on sale' in Dorset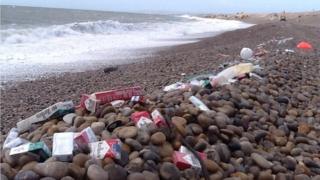 Thousands of cigarettes, thought to be from a consignment washed up in Dorset and Devon from a storm-hit ship, have been found on sale.
In February thousands of packets of cigarettes were washed up on a two-mile stretch of Chesil Beach in Dorset after 500 containers fell from a cargo ship.
Millions more cigarettes were recovered from a container on Axmouth beach.
Trading standards officers are confident they have now found 2,640 of the cigarettes on sale.
Four premises across Dorset were searched and two were found to be selling illegal tobacco.
Dorset County Council Trading Standards said the traders were "visited based on intelligence received both directly from the public and from Dorset Police".
A spokesman said a sniffer dog found 16 pouches of illegal hand rolling tobacco at one shop. They were not thought to have come from the cargo ship.
The owner of another shop volunteered the cigarettes before the sniffer dogs were needed.
Richard Herringshaw, principal trading standards officer for Dorset County Council, said he believed the cigarettes, which were not intended for the UK market, were part of the consignment being shipped from Rotterdam to Sri Lanka.
It is thought no duty had been paid on them.
The cargo ship shed about 500 containers during a storm in February in the Bay of Biscay.
Most are thought to have sunk in French waters, 75 miles south west of Land's End, but at least three were later spotted in the English Channel.
Dorset Police, which also took part in the operation, seized the cigarettes and the council plans to question the trader who was selling the unrelated pouches of tobacco.