MP calls for Pokesdown station disabled access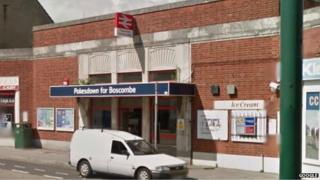 An MP has joined calls to to improve access at a Dorset railway station.
Pokesdown Station in Bournemouth serves Boscombe and Southbourne but its lifts have been out of action for 30 years.
Tobias Ellwood, MP for Bournemouth East, has now presented a 1,200-signature petition to the Prime Minister.
The Department for Transport (DfT) said the station was not among those nominated for improvements under the government's Access for All scheme.
In 2011 the government announced a multimillion-pound programme to upgrade stations, which has so far provided step-free routes at 150 key stations.
The upgrade campaign was launched by the Pokesdown Community Forum in February and has been supported by Access Dorset.
A forum spokesman said: "Pokesdown is the second busiest local station in the area, with 312,000 users in 2011-12 alone.
"It serves half of the town of Bournemouth and is the main station for visitors to Boscombe, Southbourne and AFC Bournemouth and is therefore crucial for the town's tourism, yet there have been no lifts working on the station for around 30 years."
Users of Pokesdown Station have to negotiate 42 steps to reach each of the two platforms.
Mr Ellwood said: "I hope that [the Prime Minister] will see from the vast number of signatures that local residents are passionate about making this station inclusive and accessible to all, from elderly and disabled users to young mothers with pushchairs."
A DfT spokesman said: "The rail industry nominated 278 stations for Access for All funding but as Pokesdown for Boscombe Station was not put forward by either South West Trains or Network Rail it could not be considered.
"However we are committed to improving accessibility across the rail network, and if further funding becomes available in the future we will look again at inaccessible stations across the network."