MP Richard Drax criticised for accusing government of "tokenism"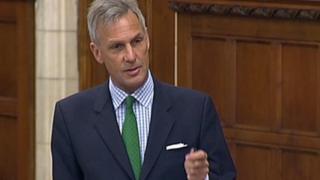 A Dorset MP has been criticised for branding the promotion of women in the government's recent reshuffle as "tokenism".
Richard Drax, Conservative MP for south Dorset, said tokenism had "burst upon us like a thunderstorm".
In his blog, he said he had "no problem with women getting top jobs" but said they should get them on merit.
Labour parliamentary candidate Simon Bowkett said the comments "belong to another era".
'Embarrassment'
In a blog posting, Mr Drax described the reshuffle, earlier this month, as the "night of the petticoats".
He said: "First, I have no problem with women getting top jobs.
"But, they, like their male counterparts, must get there on merit, and not just because they are women and a quota needs to be filled by 2015.
"An MP's life is busy enough, but a minister's even more so.
"Perhaps it would be wiser to tackle the shallow end first, before venturing out of your depth."
Mr Bowkett, parliamentary candidate for south Dorset, said: "To question an MP on their ability or inexperience is one thing, but Mr Drax has reserved all his criticism only for his female colleagues.
"I am sure female voters will notice that he makes no mention of any other newly-promoted minister, like Sajid Javid, who was also only first elected in 2010 - but is a man.
"Many of us are trying hard to present and promote Dorset as a modern, inclusive place to live and do business, and we could do without an MP whose comments regularly bring embarrassment, and frankly belong to another era."
Green parliamentary candidate for the constituency Jane Burnett said the comments were "quite shocking".
"Either he is suggesting David Cameron has appointed people who are not capable of doing the job, or Mr Drax has a very dim view of women's ability to do top jobs," she said.
Last week, Labour MP Helen Goodman apologised "unreservedly" after she wrote a tweet saying the clothes of the recently-promoted women Conservative politicians were "the most interesting thing about them".