Saxon Square Shopping Centre's £3m upgrade complete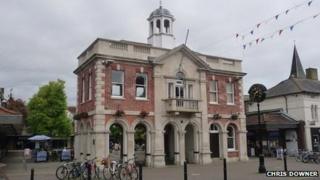 A £3m upgrade of a "dark and dated" shopping centre in Dorset has been completed.
Changes to Saxon Square in Christchurch included turning a building empty for 20 years into a hotel.
Stephen Bowden, Christchurch Chamber of Trade's president, said: "The centre was starting to look dark and dated... it's now fresh and welcoming."
Ray Nottage, leader of the borough council, called it "good news" for the town.
Other improvements include new paving and seating at the site.
Bryan Taylor, centre manager, said it looked "better than ever".
He added: "It has been a challenging project and we would like to thank shoppers and traders for their support throughout.
"Saxon Square is very much at the heart of the community of Christchurch and we hope people continue to support and enjoy the new-look centre for years to come."
A celebration to mark the makeover is taking place at the centre on Saturday.