Poole's new Ocean Academy approved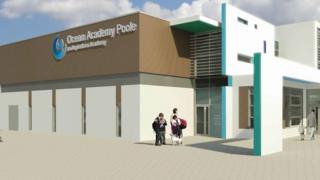 Plans for a new £6.8m junior school in Poole have been approved.
Ocean Academy will provide 360 places for children aged between 7 and 11. The National Audit Office identified Poole as an area in "high need" of places.
Building work will now begin at the Fourways site with the first intake of pupils in September 2015.
Janet Walton at the local authority, Borough of Poole, called the decision a "milestone".
Philip Eades, chairman of the planning committee, added: "There is a need for additional junior school places in Poole and we were happy to support this proposal.
"We now look forward to seeing the new school taking shape."