Sandbanks ferry resumes after chain beak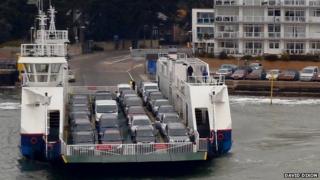 The car ferry across Poole Harbour in Dorset has resumed service after one of the chains guiding it broke.
The Sandbanks Ferry was forced to halt crossing for two days after the incident on Wednesday.
It was suggested Brittany Ferries's cross-channel ship, the Barfleur, may have clipped the chain as it passed at low tide.
But an inspection by divers showed no sign of an impact. The Marine Accident Investigation Branch is investigating.
Brittany said divers inspected its ship, a French-registered roll-on/roll-off car ferry, at Cherbourg on Wednesday afternoon but found no damage.
The Sandbanks chain ferry, called Bramble Bush Bay, takes four minutes to make the crossing from Sandbanks to Shell Bay. The shortest alternative road route from shore to shore is 27 miles.