Andy Kirkby's Weymouth Gateway sculptures unveiled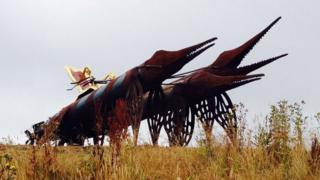 Three sculptures celebrating the history of Weymouth and its surroundings have been unveiled.
The public artworks, by sculptor Andrew Kirkby, have been installed at three locations in the Weymouth Gateway business park, in Dorset.
The pieces are three ichthyosaurs made out of torpedo shells, a giant gold picture frame and a bus stop with musical instruments encased inside.
The public was asked to contribute ideas for the sculptures.
Recurring themes included the Jurassic Coast, the world wars - in particular Whiteheads Torpedo Factory in Wyke Regis - and King George III, whose statue stands on Weymouth seafront.
The Torpedosaur has been installed near the park and ride.
Inspiration came from ichthyosaurs, dolphin-like reptiles that lived millions of years ago. In December, storms uncovered a 1.5m (5ft) skeleton at the base of Black Ven on the Jurassic Coast.
The bus stop, called Under the Hill, and Frame can be found near New Look's headquarters and a Sainsbury's store.
Weymouth and Portland leisure councillor Rachel Rogers said: "The point of public art is to inspire discussion and I very much hope they [the sculptures] will do that."
She said council was hoping to create a history and culture trail in the town, which would include the new Gateway sculptures.
Mr Kirkby said stories from members of the public formed part of the design process and had been the "anchor" of the project.
He said: "Without them it would be just another artist making art for other artists."
He said by using their ideas he hoped residents would feel a sense of "ownership and relevance".
Local resident Richard Cridland described the project as "fantastic" and said he hoped it would help with the regeneration of the town.
David and Sheila Biddlecombe, retired Weymouth hoteliers, said they were pleased some of the resort's history had been incorporated into the designs.
Mr Biddlecombe said: "We particularly like the use of the torpedoes which relates to Whiteheads torpedo factory at Wyke Regis."