Hamworthy lake search for £8,000 prosthetic leg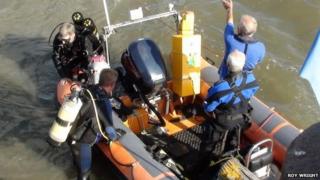 A search operation is taking place in a Dorset lake after a man lost his £8,000 prosthetic leg.
Volunteer divers are looking for Roy Wright's missing false limb after he lost it while jumping into the water at Lake Pier in Hamworthy.
Mr Wright said he has been overwhelmed by the kindness of residents.
He also thanked the stranger who jumped in to the water on Saturday to rescue him after he got caught in a strong current.
He said: "I can't thank them enough. I guess it is human nature, everyone has really rallied together. It is really humbling."
The 45-year-old, from Addlestone in Surrey, was visiting the area with his partner Jill Greenaway and daughter Terri Wright, as he was planning to set up a charity to give amputees holidays at Beacon Hill.
He mistakenly thought the water looked calm.
"When I got back on the beach I just burst into tears. I couldn't believe how close I was to drowning in front of my fiancée and daughter just because of one silly thing," he said.
Members of the public have been searching for the leg since Saturday and are continuing to do so.