Call to stop the spread of Himalayan balsam in Dorset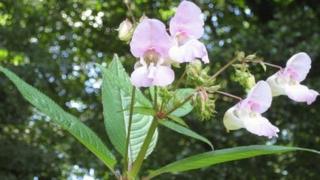 Communities are being urged to help stop the spread of a plant which is "causing havoc" on Dorset riverbanks.
Dorset Wildlife Trust said Himalayan balsam was causing erosion and destroying the habitats of creatures such as water voles.
It grows very quickly and smothers and destroys native plants.
The trust is asking people who live near streams and rivers to pull out the plant, which has distinctive pink trumpet-shaped flowers.