Bournemouth Pier to Pier Swim attracts 1,900 entrants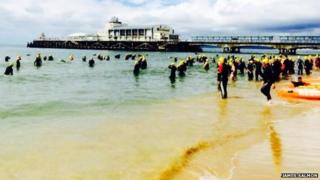 Record numbers of swimmers have plunged into the English Channel for a pier to pier charity swim.
About 1,900 people took part in the 1.4 mile (2.2km) swim, between Bournemouth and Boscombe piers, organised by the British Heart Foundation.
Last year the event, which is now in its 24th year, attracted about 1,600 entrants and raised more than £100,000 for the charity.
Swimmer Victoria Mills, 22, said conditions had "not been too wavy".
Miss Mills, a Bournemouth University graduate from Enfield, North London, said entrants even got a glimpse of the sun during the event.
About 60 lifeguards were involved in the event, which was run in two heats and watched by thousands of spectators along the promenade.
Andy Coles, from the British Heart Foundation, said: "It was such a magnificent spectacle and at 14 degrees the water was quite warm too.
"Some swimmers were in wetsuits but others braved it in their costumes or swim shorts."
He added "early indications" showed the event had raised about £150,000 for the charity.