Swanage Railway's first passenger trains commemorated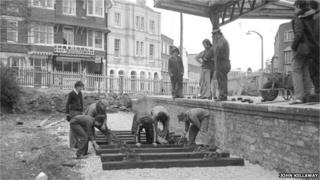 Volunteers who spent 30 years rebuilding a Dorset railway line have celebrated the 35th anniversary of the heritage line's first passenger trains.
Swanage Railway's weekend gala marked the birth of a train service which now carries more than 210,000 passengers a year on the 5.5-mile (8.8km) line from Swanage to Norden Park and Ride.
The line was closed and ripped up in 1972.
It was rebuilt from 1976 and ran its first passenger train in 1979.
On 5 August that year an industrial diesel shunter and passenger coach ran on a few hundred yards of hand-laid track.
It was built up over time and in 2007 the line was connected from Swanage to the national network near Furzebrook.
Swanage Railway said its volunteers, about 10 of whom have been honoured with long service awards during the celebrations, spent 30 years rebuilding what British Rail "ripped up" in seven weeks.
During this weekend's gala event, members of the public were able to travel for the first time behind No. 60163 Tornado, a Peppercorn class A1 Pacific steam locomotive, which has been built from scratch over 18 years.
Peter Sills, chairman of the railway, said: "It is absolutely amazing what has been achieved by the Swanage Railway since a small band of volunteers first gained access to a boarded up and trackless Swanage station back in February 1976."
Next year, a regular service on the 10-mile stretch between Swanage, Corfe Castle and Wareham is set to run, for the first time in 43 years.
Trial services are planned for 50 days in 2015 and 90 days in 2016. It is hoped a year-round service will follow.