Borough of Poole mobile library may close to save money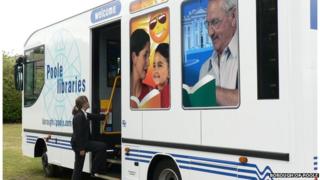 Plans to close a mobile library in order to make savings are being considered by the Borough of Poole.
The council has announced it will hold a public consultation on proposals to replace the service with community-led facilities.
The move would help towards £100,000 of public library savings it needs to make in the next year.
The mobile library service costs £49,000 a year to run and a new vehicle costing £100,000 will soon be required.
There has been a decline in customers using the service, according to the local authority, and it now accounts for only 2% of total library use.
Councillor Jane Pratt, chairman of the communities overview and scrutiny committee, said: "We believe the alternative services we plan to offer will improve the service reach of public libraries to local communities in Poole."
Lois Taylor, from Bearwood Community in Action, said residents in Bearwood who use the service may be disappointed and that it would be difficult to set up a community-led library in the area.
However she added: "We know they are trying to save money and we have got to accept that."