Coastguard warning over 'tombstoning' on Dorset coast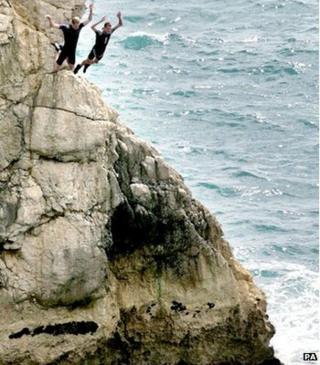 Coastguards have warned about the dangers of "tombstoning" on the Dorset coast after people were seen jumping into the sea from cliffs and piers.
The agency said young thrill seekers were "putting their lives at risk".
Nic Lonsdale, of Portland Coastguard, said: "You do not know what other hazards might be under the surface."
Figures from the Maritime and Coastguard Agency show that in the past five years, seven people have been badly hurt from tombstoning in Dorset.
The agency said people jumping from great heights had no way of knowing the depth of the water, the temperature or tidal conditions.
Mr Lonsdale added: "What was a deep pool at lunchtime might be a shallow puddle by teatime due to tidal conditions."
Police said officers had also noticed a recent rise in youngsters jumping off the East pier at West Bay, narrowly missing boats in Bridport Harbour.
In 2008, Sonny Wells, who was 20 at the time, jumped 30ft (9m) from a Hampshire pier into 3ft (90cm) of water.
Mr Wells, of Waterlooville was left paralysed and will never walk again.