Bournemouth Airport and Poole port to benefit from £24m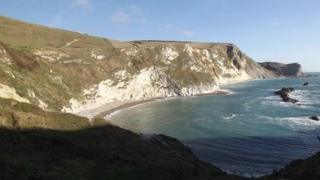 Bournemouth Airport and the port of Poole are set to benefit from nearly £24m that is being invested in Dorset by the government.
The "growth deal" will see road access to the port and airport improved.
The money will also allow work to begin on a new Jurassic Coast visitor centre on Portland.
Announced earlier, the £23.9m deal for 2015-16 is the first instalment of nationwide £6bn programme to revitalise local economies.
The government has indicated a further £42.4m of funding will be made available to Dorset from 2016-17 onwards.
The Dorset Local Enterprise Partnership claims the total investment of £66.3m could help to create up to 25,000 jobs and allow more than 3,000 homes to be built in the county.
Spur road renewal
Jim Stewart, chief executive at Poole Harbour Commissioners, said: "The new transport projects will provide critical infrastructure for the port of Poole and 26 hectares of brownfield land, which will be one of the largest regeneration areas in the South West."
The work at Bournemouth Airport will include "the major renewal of the A338 spur road" into the town.
Paul Knight, managing director of Bournemouth Airport, said: "We believe that by investing in the road infrastructure around Bournemouth Airport it unlocks the single largest employment opportunity in the south east Dorset conurbation.
"It opens up the development opportunity that exists within the business park and we can continue to attract more employers and jobs to the park as well as more airlines to the airport."
A research centre to attract orthopaedics businesses to Dorset will also be set up.