Mobile home petition taken to Downing Street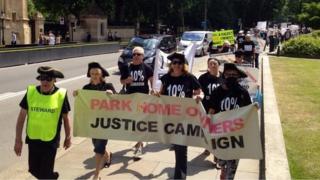 A petition calling on the government to debate commission paid on the sale of mobile homes has been taken to Downing Street.
Sonia McColl, from Wareham in Dorset, wants the government to reconsider the 10% levy home owners have to pay to park operators if they sell their home.
She presented a petition signed by 30,000 mobile home residents.
Mrs McColl was made an OBE in the Queen's Birthday Honours list for her campaigning work.
'Trapped'
She and other park home residents from across the country were joined by the MP for Mid Dorset and North Poole, Annette Brooke, for a rally.
Mrs McColl said: "Park owners are getting a very large chunk of the home owner's equity. Because of that, when people sell their home they can only afford something inferior.
"Many people feel trapped because of this. Others need to go into care and they won't have enough money when the homes are sold to sustain the care they want."
Mrs McColl led a campaign to change a rule which meant park owners could prevent residents from selling their homes.
The law had led to rogue landlords blocking sales in order to buy the homes themselves at a cheaper price.
The Mobile Homes Act was brought in last year, offering some protections for residents and powers to prosecute park operators.
However, Mrs McColl believes the 10% levy charged by park operators when people sell their homes is too large.
It was reviewed in 2002 and 2006 but on both occasions was kept at the same level.
"We are not asking for the commission to be abolished, we are asking for a compromise," she added.