Dorchester independent businesses' plan for 'split' town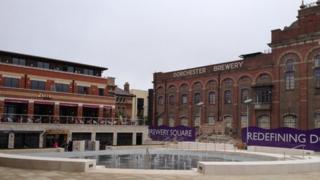 A number of independent businesses have formed a campaign group after what they describe as a "split" in a Dorset town.
It follows the development of Brewery Square south of South Street in Dorchester, which has traditionally been the town's main shopping area.
Some traders say it is affecting footfall in the "old" town centre and are launching an advertising campaign.
Andrew Wadsworth, Brewery Square's director, argued the £100m project was bringing people into the town.
Campaigner Todd Moffat, of Taste restaurant, said about 11 independent businesses had signed up so far.
He said his trade was down about 40% over the last year.
The group aims to organise a leaflet and poster campaign to promote the town's independent businesses.
Jim Ross, of Durnovaria bar, said the group was not opposed to Brewery Square.
"Any development and progress is great for Dorchester. We just want to ensure the independents aren't forgotten about," he said.
A cinema, hotel, restaurants and shops have already opened at Brewery Square, on the site of the old Eldridge Pope Brewery.
Mr Wadsworth said people were just as likely to visit the South Street area as the new development.
He also said Brewery Square currently had only five retail shops and said it was more likely a number of new chains opening in South Street had been affecting trade for the independents.