Navitus Bay wind farm 'may add £960m to local economy'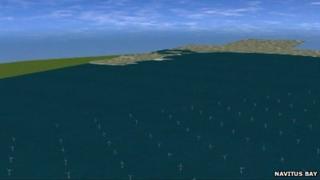 The Navitus Bay wind farm could create more than 200 jobs and contribute up to £960m to the local economy over its lifetime, a new report has said.
The gross value added (GVA) as a result of the project, off the Isle of Wight, Dorset and Hampshire coasts, could grow by between £145m and £960m up to 2047.
The Weymouth and Portland District Council report is to be considered by its planning and traffic committee.
It looks in more detail at the potential local impact of the plan.
Visual impact
The report predicted none of the manufacturing of major components, including turbines, blades and cables, would take place in Dorset and instead was likely to be made in French ports.
It predicted between 60 and 220 local jobs would be created during the wind farm's installation phase, between 2017 and 2019, under its low and medium forecasts.
This would lead to between 20 and 210 operations and maintenance jobs from 2018 to 2047 in the service sector but may include a range of skill levels, from security operatives to professional staff, it said.
However, the report did conclude Navitus Bay had "under-assessed" the effects on parts of the Dorset Area of Outstanding Natural Beauty in its own seascape and landscape visual impact assessment.
The report adds: "The council's initial statement should raise the issue of the potential economic benefit to Portland and surrounding areas of Weymouth and West Dorset; but subject to the caveat that the environmental impacts of the proposal need to be properly considered through the examination process."