Dorset club for blind people facing closure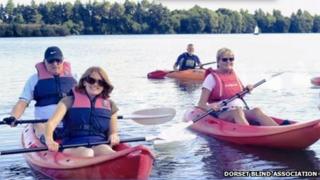 A Dorset club for blind and visually impaired people will close unless £3,000 is raised within a week.
The Dorset Blind Association has raised £9,000 out of a total £12,000 needed to keep Social Eyes in Poole open.
But it will close on 27 June once its club leader's contract ends as there is no money to pay for a new one.
Charity fundraising manager Jaya Da Costa said the club was "life-changing" as it offered members skills training and volunteer work opportunities.
According to the charity, almost two thirds of people who are registered blind or partially sighted never or rarely go out, causing many to suffer loneliness and depression.
Social Eyes said it tackled these issues by improving chances to find work and offering social activities such as kayaking and cricket.
But a £40,000 funding shortfall has meant the charity has lost three out of six support workers in the county.
In Dorset more than 35,000 people are living with sight loss, the charity said.