Dorset wheelchair users record access problems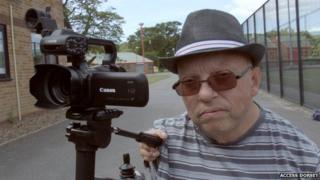 A group campaigning for better access for people with disabilities has launched a project to highlight problems faced by wheelchair users.
Access Dorset is training 12 members to film their experiences in a bid to improve access.
The films will be sent to the relevant local authority or organisation in a bid to urge them to act.
The scheme has already had some success in Poole where a poorly-planned dropped kerb is due to be altered.
'Pretty horrendous'
Wheelchair user Kelvin Trevett said: "I think one of the big problems, certainly in the Poole area, is the pavements.
"You've got very small slabs and when you're in a wheelchair you really notice it... you get a real judder.
"If you've got somebody with a spinal problem or a bad back, it's pretty horrendous."
Jonathan Waddington-Jones, chief executive of Access Dorset, said: "We wanted to give our members a voice and we thought that a very powerful way of doing this would be to equip them with cameras.
"Kelvin filmed one of his friends being unable to cross a road because of a very poorly laid out dropped kerb.
"He sent it to the Borough of Poole and [they] are acting on it"
Poole health and wellbeing councillor Karen Rampton said: "We have worked with Access Dorset previously to help improve access for people with disabilities and look forward to seeing the results of this campaign which may enable us to make further beneficial changes."