Maiden Newton railway work 'keeps residents awake'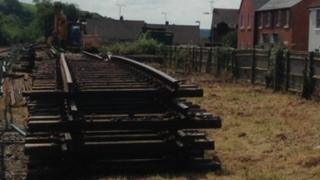 Residents of a Dorset village say overnight railway work is keeping them awake.
Maiden Newton households were sent letters from Network Rail telling them that essential engineering work was due to start next month.
However, work has already begun and villagers say noise and light from the site is leading to sleepless nights.
Network Rail apologised to residents and said the work was being split into three parts.
However, not all residents were informed of all stages.
'Floodlit' house
The work that began in June is further along the line from the village, where there are no houses.
However, the access point for getting machinery and materials on and off the track is at Maiden Newton.
Chris Denham, of Network Rail, admitted most residents in Bull Lane, opposite the track, would be affected.
Resident Susan White said at night the noise "echoes down the street".
She added her house was sometimes "floodlit" by lights used during the work, describing it as "awful".
Ear plugs
Martin Ridley, another resident, said he and his wife had moved from the front bedroom of their house to the back bedroom because of the "terrible" noise.
"It must be bad because Network Rail has sent two sets of ear plugs in the post, to every resident in the street," he added.
"We accept the work has to be done but the issue is the lack of consideration and communication."
Mr Denham said £2m was being invested in the railway around Maiden Newton and although residents had been informed of the work by letter, not all residents had been told about all stages of the work.
He apologised for the "communication error".
He said work would continue until September, but would not take place every night and added there would be a break in July.