Paraglider, 72, rescued from Weymouth cliff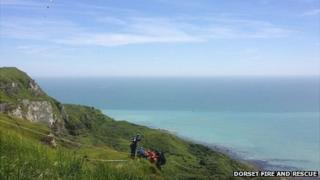 A 72-year-old paraglider who became stuck on a cliff near Weymouth has been hauled to safety.
A rescue team, which included coastguards, fire, police and paramedic crews found the man stranded on the cliff at Ringstead on Wednesday.
Three cliff rescue teams abseiled to the man who was about 330ft (100m) down the sloping cliff and used ropes to pull him up.
The man is not thought to have suffered any serious injuries.