Rico Dardis murder trial: Accused 'had blood on them'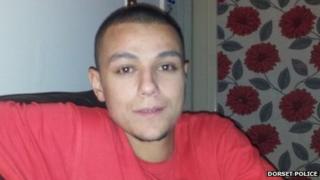 Two men accused of pushing a man from a motor boat and running him over off the Dorset coast had blood on them, a court has heard.
The dismembered body of Rico Dardis, 30, was found in the water at Christchurch in May 2013.
Paul Gerlach, 51, of no fixed address, and Louis Borzoni, 50, of Hamilton Road, Bournemouth, both deny murder.
A witness told Winchester Crown Court she thought the two men who she saw on the beach "had been fighting".
The trial was told how Mr Dardis, from Boscombe, had gone out on a motor boat with the two defendants on the Whitsun Bank Holiday Monday in 2013.
The prosecution alleges Mr Dardis was pushed into the water and run over with the boat's propeller.
Giving evidence, Brenda Pidgley, who was on the beach with her family at the time, said she saw the two men with a boat which seemed to have broken down by the groynes.
"I thought it had broken down, there was no engine noise. It looked like they had blood on them, it looked like it they had been fighting," she said.
She also noticed what appeared to be the top half of a mannequin floating in the sea and that the men were not paying any attention to it, Ms Pidgley added.
Another witness, Alan Bennett told the court: "We assumed they'd been fishing and we offered help. We thought they had no idea about boats and they were lucky to have been blown on shore."
His wife Gillian told jurors how she saw a body in the water but did not connect it to the two men with the boat.
When her husband went to ring 999, she said the men said they had to leave to get a taxi.
The trial continues.