Dorchester prison site 'needs development protection'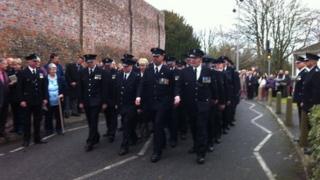 Not enough is being done to protect Dorchester's prison site from "unattractive" developments, according to heritage campaigners.
Town councillors and the civic society want West Dorset District Council to draw up planning guidelines to help preserve the "historic site".
The jail closed in December and the Ministry of Justice (MoJ) has said it plans to put it up for sale.
The district council said it wants to see a "viable and high quality" revamp.
The MoJ said it would "seek the best value for taxpayers".
Medieval castle
Parts of the Victorian building on North Square are listed and it is in a conservation area, but Dorchester Civic Society and councillors say this is not enough to safeguard its future.
Andy Canning, Dorchester North councillor, said he wants to ensure there are no regrets about any future development of the site.
The civic society wants to see homes built there with a focus on affordable housing.
Chairman Alan Rowley said there were also opportunities for a small public park to be developed and the prospect of extending the Dorchester town walks from Northern Hey to North Square.
"These are things which can be put into a planning brief without any difficulty," he said.
The site was once home to a medieval castle, erected in 1154 but disused from about 1290.
A prison was built on the site in 1795, and rebuilt in the late 1800s.