Purbeck ball clay mining museum officially opens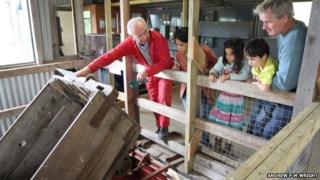 A museum charting the history of Purbeck ball clay mining which took volunteers more than a decade to complete has officially opened.
Purbeck Mineral and Mining Museum is based at Norden, near Corfe Castle, on the site of the old clay works which were demolished in the 1970s.
It was built by a small team of Swanage Railway volunteers over 12 years.
Purbeck ball clay was used in the 27,000 ceramic tiles which made up Nasa's Space Shuttle's outer skin.
The clay was also used in the manufacture of fine china.
The museum, which part opened to the public in May last year, features a reconstruction of an underground mine tunnel, a rebuilt ball clay trans-shipment building and a section of gauge railway.
It was funded by a £100,000 EU grant from the Chalk and Cheese organisation, as well as £40,000 in donations.
BBC Antiques Roadshow ceramics expert and railway author Paul Atterbury, from Weymouth, opened the museum.