Dorset Police apologise over call centre merger disruption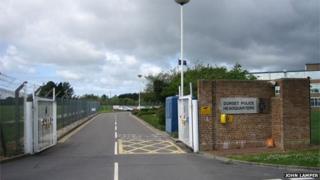 Dorset Police have apologised after a merger last month of its enquiry centre and force control room disrupted its non-emergency response service.
The force said it was relocating systems and recruiting more staff for its new combined force control centre at its headquarters at Winfrith.
It said the amalgamation would save the force about £1.3m per year and a total of £5.4m by 2018/19.
Dorset Police said "the increased demands" had affected waiting times.
Police and Crime Commissioner Martyn Underhill said residents and councillors had been "quite vocal" about the problems with the 101 non-emergency service and he had asked the force to step up improvement plans.
Jane Jennings, head of contact management, said: "The recent changes have caused a temporary dip in our service.
"I would like to apologise for this and assure the public that we are actively recruiting more staff into the force control centre to improve waiting times and overall performance."