Witchampton biplane crash: Pilot charged with manslaughter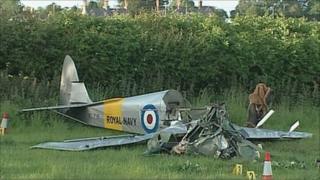 A pilot has appeared in court charged with the manslaughter of a man who died in a biplane crash in Dorset.
Scott Hoyle, 47, of Charborough Road, Broadstone, was at the controls of a Tiger Moth which crashed at Witchampton on 15 May 2011.
Passenger Orlando Rogers, 26, died after the crash.
Mr Hoyle appeared at Bournemouth Magistrates Court. He was granted bail to appear at Winchester Crown Court on Friday.