Linda Lietaviete death: Alvin Santos 'took drugs' before stabbing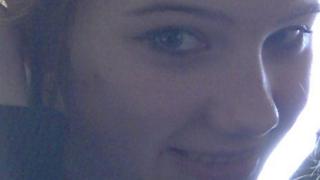 A man took an amphetamine-style drug and smoked cannabis before he stabbed a 16-year-old girl to death, a court has heard.
Alvin Santos, 25, denies murdering business student Linda Lietaviete, at Horseshoe Common in Bournemouth.
A trial at Winchester Crown Court heard she was found with seven stab wounds to her chest, partially stripped of her clothes and covered in leaves.
Santos has denied the charge of murder but admits her manslaughter.
Kerry Maylin, prosecuting, told Winchester Crown Court the teenager moved to the UK with her family from Latvia when she was 11-years-old.
She became friends with Santos when she was 14. In the months prior to her death they had recently only been in "sporadic" contact with each other, but had arranged to meet in Bournemouth town centre on the evening of 12 December.
Jurors were told Santos was seen on CCTV purchasing a bottle of vodka and the pair were heard laughing and listening to music in the park.
'Acting strangely'
The jury heard the defendant later told detectives that he had "blacked out" when he became angry after Linda admitted she had been responsible for causing him to be the victim of a serious attack two years previously in which he suffered a broken jaw and chipped teeth.
Ms Maylin told the court: "When he came round a few moments later he found Linda was on the ground and he was holding the knife. He said he carried a knife because he was nervous."
Later that night a friend of Linda's reported her missing to police when she did not return home and Santos's sister Catherine Santos reported him to the police after he returned to their Wimborne Road flat acting strangely.
Ms Maylin continued: "She said he was crying, he lay on the floor of the flat saying repeatedly that he was sorry. She could tell her brother had been drinking."
After Santos was arrested, blood tests carried out showed that he had taken methylone, an illegal drug which has similar effects to amphetamines or ecstasy, at some time in the previous 12 to 24 hours, Ms Maylin said.
Santos also told police that Linda and he were "just friends" but she wanted to become closer which he did not.
The trial, which is expected to last two weeks, continues.