Bournemouth Berry Court car park plan for 100 homes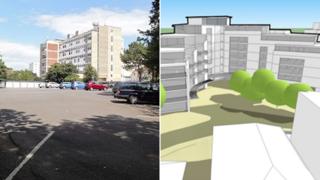 A car park in Bournemouth is set to be transformed into a space for 100 "urgently needed" homes.
The borough council's cabinet has backed the £17m plans for Berry Court to provide privately rented apartments.
The site is the latest proposal in a 20-year "town centre vision" by the Bournemouth Development Company, which aims to create up to 2,000 new homes.
The company, co-owned by the council, is estimated to make £1.8m profit from the development.
The plans would retain the car park's current 155 spaces via a "small multi-storey" building.
The council's core strategy is to build 14,600 extra homes by 2026 to add to the existing 82,400 homes in the borough.
Council leader John Beesley said Berry Court was "the next exciting phase of development" to deliver new homes in the town.
He added: "These are urgently needed, but we will not lose public parking which is so vital to the town's economy and for workers in the area."
The council cabinet approved outline recommendations for the site, off St Peter's Road, at its meeting earlier.
A planning application is yet to be submitted but if approved, work on the site is estimated to start in June 2015.