Sainsbury's bans Portland scallops over toxin levels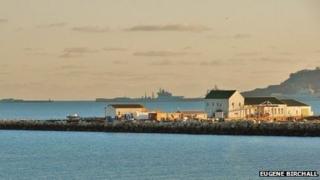 A major supermarket has stopped supplies of king scallops from Portland Harbour going to its stores over concerns about toxin levels in algae.
Weymouth Port Health Authority said tests of molluscs off Dorset had indicated the presence of Amnesic Shellfish Poisoning (ASP) toxin.
The harbour closed to the gathering of scallops, oysters and mussels on Wednesday, after mussels there were found to have high toxin levels.
Sainsbury's said it was a precaution.
A spokesman said its Scottish-sourced mussels were not affected, and it does not sell oysters.
He said no scallops from the affected batches were in its stores when the warning came, so it did not need to withdraw the product.
ASP can be a risk to public health if consumed in "sufficient quantity" and can in "very rare cases" cause death, the port health authority said.
The Food Standards Agency said sites along the Atlantic coasts of the UK, France, Ireland, and throughout the English Channel, had been affected by the "large algal bloom".
Portland is the only classified harvesting area which is closed. It said this and other areas would continue to be monitored.
Samways Fish Merchants, which supplies king scallops from the Portland area to its customers, said it was a "major concern" because it is a high-value product.
It said "every single batch" was being tested and so far high levels of ASP toxin had not been detected.
It added the cleaning of all molluscs from areas where fishermen were still harvesting, such as Lyme Bay, had been increased.